This is the most favorite bit of history I've learned about one of my wonderful finds. I found this treasure while sea glassing over a year ago.
When I started doing research I found out that these dolls are known as "Frozen Charlotte" dolls and are forever associated with a very serious warning for young women of the era.
This is my find, a small torso just 1 1/4″ long.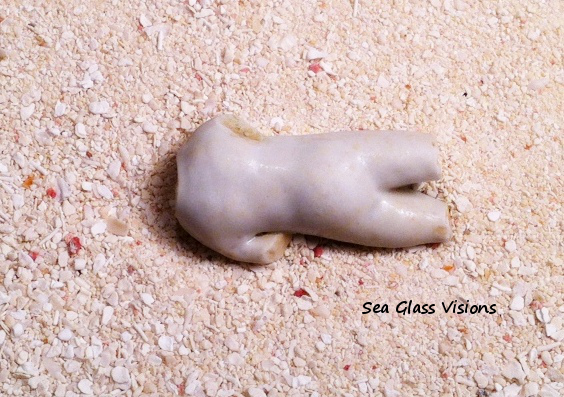 These bisque/china dolls were popular between the 1850's and the 1920's. They range in size from 1″ to up to 15 1/2″. Most were manufactured in Germany.  Most small ones have no identifying marks, some of the larger ones do.
They were originally manufactured as Victorian bathing dolls as they could get wet. They were popular with children who collected and traded them. Over time they had other uses, they were sometimes baked into Christmas Puddings and Birthday Cakes as surprises for children. The smaller dolls were sometimes put into tea pots before the hot water was added to help cool the pot and prevent it from cracking.
Frozen Charlotte dolls, and her counterpart, Frozen Charlie dolls, have no moveable parts. Most of the dolls stand straight with legs together and hands at the side. Some rarer ones are found in seated positions. Most were plain bisque/china, but some rare ones have hand painted features of eyes, cheeks, hair, shoes and clothing.
These dolls are also referred to as "Penny Dolls" as they sold for one cent.
At some point, because of their pale white appearance and frozen limbs, they became known as "Frozen Charlotte" dolls, named after a real girl named Charlotte who froze to death on her way to a party in 1831 because she didn't want to put on a coat to cover up her fancy dress. The story of Charlotte became a part of American Folk Lore after a man named Seba Smith was moved to write a poem about her incident after another young woman met the same fate while riding to a ball in 1840.
Young Charlotte      

Young Charlotte lived by the mountainside, in a wild and lonely spot
No dwelling there for three miles around, except her father's cot
And yet on many a winter's night, young swains would gather there
For her father kept a social board and she was very fair
Her father like to see her dressed, as fine as a city belle
For she was the only child he had and he loved his daughter well
It was New Year's Eve, the sun had set, why looks her anxious eye
So long from the frost window forth, as the merry sleighs pass by?
At the village inn, fifteen miles off, there's a merry ball tonight
The piercing air is as cold as death, but her heart is warm and light
But, ah, how laughs her beaming eye, as a well known voice she hears
And dashing up to the cottage door, young Charles with sleigh appears
"O daughter dear!" her mother said, "This blanket round you fold
For it is a dreadful night abroad and you'll get your death of cold"
"Nay, mother, nay" fair Charlotte said and she laughed like a gypsy queen:
"To ride in blankets muffled up, I never can be seen"
My silken cloak is quite enough, it is lined throughout you know,
Besides I have a silken scarf, which around my neck to throw"
Her gloves were on, her bonnet tied, she jumped into the sleigh
And away they ride by the mountainside and o'er the hills away
There is life in the sound of the merry bells, as o'er the hills they go
What a creaking noise the runners make, as they bite the frozen snow
With muffled faces silently, o'er five long miles they pass
When Charles with these frozen words, the silence broke at last
Such a night as this I never saw, the reins I scarce can hold
When Charlotte, shivering, faintly said, "I am exceedingly cold"
He cracked his whip and urged his team, more swiftly than before
Until five other dreary mile, in silence were passed o'er
"O see," said Charles, "How fast the frost is gathering on my brow"
when Charlotte in a feeble voice said, "I am growing warmer now"
And on they ride through the frosty air and the glittering cold starlight
Until at last the village inn, and ballroom are in sight
They reached the inn and Charles jumped out and held his arms to her
"Why sit you like a monument, without the power to stir?"
He called her once, he called her twice, she answered not a word
He called her by her name again, but still she never stirred
He took her hand in his, O God, 'twas cold and hard as stone
He tore the mantle from her brow and on her the cold stars shone,
And then into the lighted hall, her lifeless fore he bore
For Charlotte was a frozen corpse and words spoke never more
He sat himself down by her side and the bitter tears did flow
And he said, "My young intended bride, I nevermore shall know"
He threw his arms around her neck and kissed her marble brow
And his thoughts went back to where she said, "I'm growing warmer now"
He bore her out into the sleigh and with her he drove home
And when he reached the cottage door, oh how her parents mourned
They mourned the loss of their daughter, dear, while Charles mourned o'er their gloom
Until with grief his heart did break and they slumber in one Tomb
My doll may have looked something like this…