I love sea glassing. If you read this blog, you already know that. I find it a wonderful way to spend a few hours on a beautiful day, and on a not so beautiful day.  Last week I had an opportunity to go sea glassing to a new spot and then to one of my favorite spots. The day was sunny and not humid (a rare day in Baltimore in late July indeed).
The water was clear and shallow in both areas which made the searching even that much more fun. I had on shorts and my boating sneakers that dry quickly, so wading in deeper water wasn't a problem. Actually I love to wade in the river, it reminds me of my childhood spent playing in the Gunpowder River.
I was able to find some really neat items in both spots.
One of my favorite finds is this very old heavy ceramic pot. It reads R. Low & Son, Perfumers to Their Majesties, 330 Strand, London. I was able to date this back to the 1850's. The pot is quite damaged but luckily the label survived intact.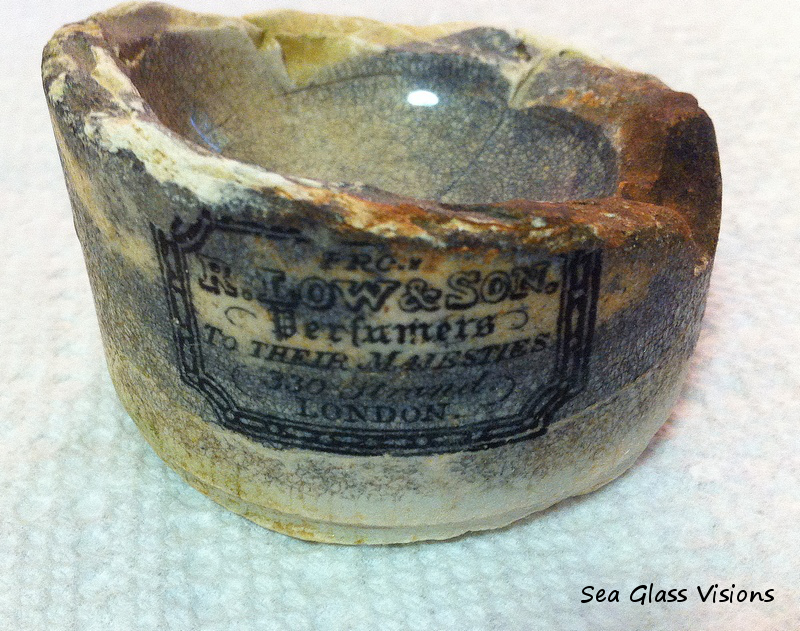 Another fun find was this piece of an old medicine bottle. I thought it might be a medicine bottle, so I did an internet search for "Dr. Kings". I found a result for Dr. Kings New Discovery for Coughs and Colds. It didn't match this piece, but then I realized that the "sump" was probably part of the word "consumption" and sure enough, this sea glass shard is from a bottle of Dr. Kings New Discovery for Consumption. This was popular in the 1880's with patients, but apparently not with physicians. Dr. Samuel Hopkins Adams said of this product "It is a pretty diabolical concoction to give to anyone, and particularly to a consumptive. The chloroform temporarily allays the cough, thereby checking Nature's effort to throw off the dead matter from the lungs. The opium drugs the patient into a deceived cheerfulness. The combination is admirably designed to shorten the life of any consumptive who takes it steadily."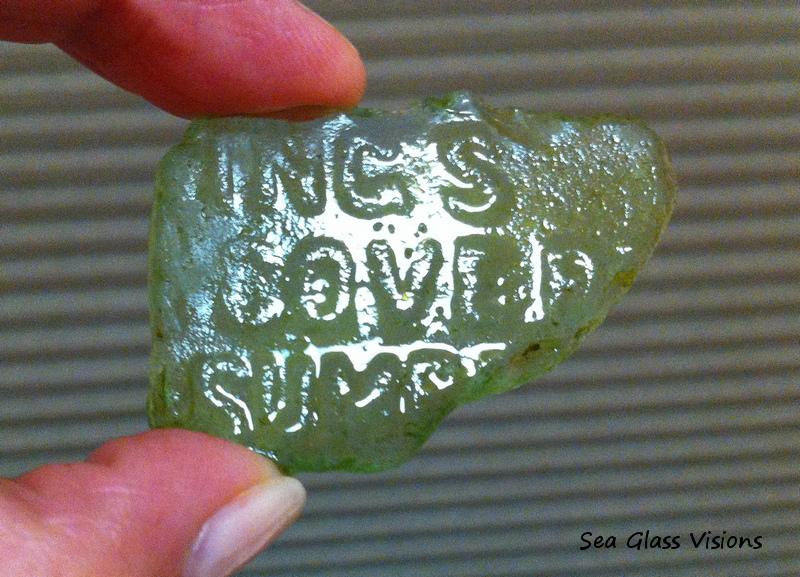 Along with these finds were wonderful pieces of thick dark green bottles, some lighter aqua pieces from old Coca-Cola bottles, and some larger Coca-Cola bottle pieces, lots of rims of all colors, and especially my favorites which are blue rims from blue Ball jars. I was also able to find a lot of wonderfully crackled pieces of old pottery and china.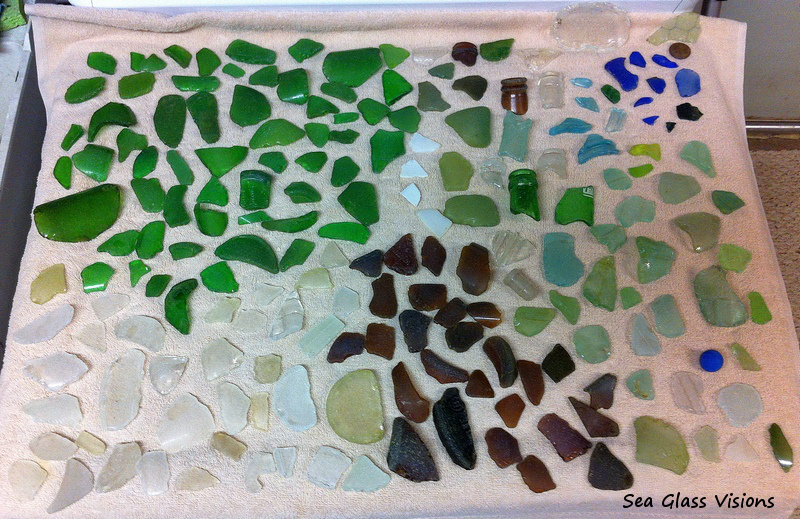 Pottery found in the river generally needs quite a bit of scrubbing to remove mildew and years of dirt from it. Luckily I have a great big utility sink in my basement where I can soak the pottery and glass and do the cleaning.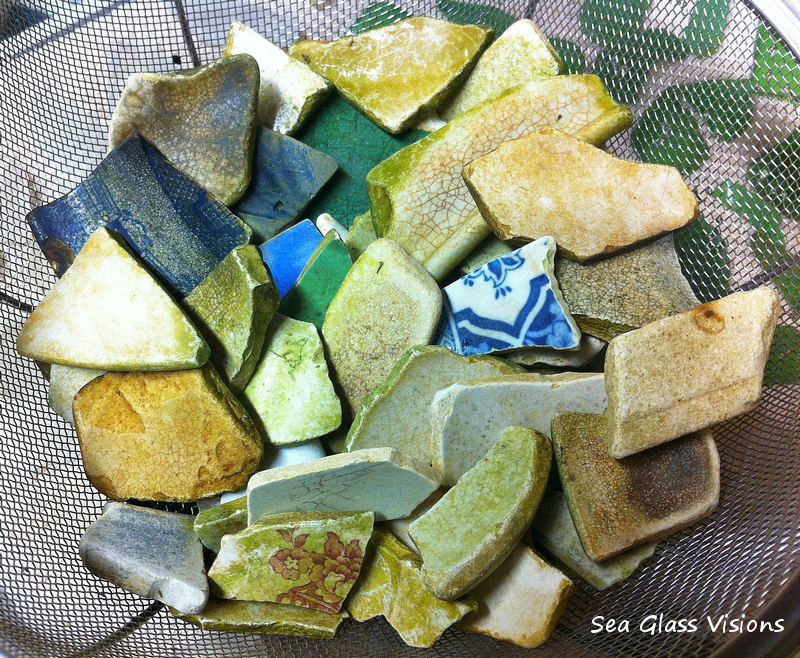 I like to use a old softened Scotch Brite dish scrubber to do the work. They are easy to hold onto and do a good job getting all the stuff off the pottery and glass without scratching it. The gloves are to try to protect the manicure!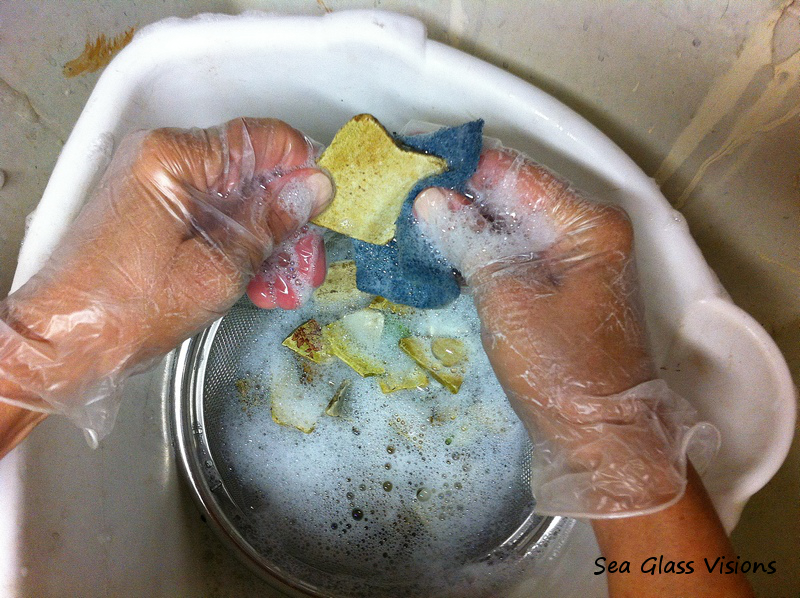 Another wonderful experience that day was being surrounded by beautiful Eastern Tiger Swallowtail butterfly's. They were fluttering around and also on the ground. I took this pic. It appears they were doing something called "puddling". Per Wikipedia, "Males participate in a behavior called puddling, in which they congregate on mud, damp gravel, or puddles. They extract sodium ions and amino acids from these sources which aid in reproduction."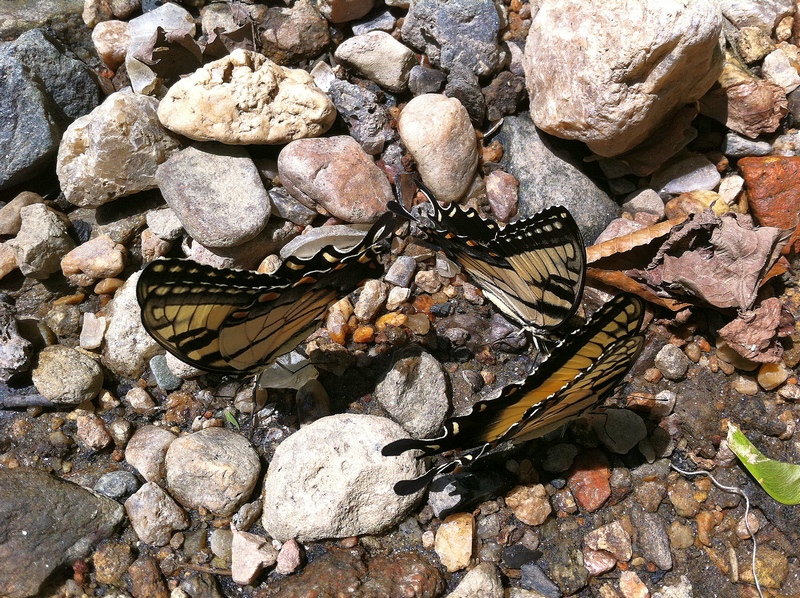 All in all a wonderful day sea glassing and enjoying nature.