When I was setting up my workbench, one of the most difficult and important decisions was lighting. For many months I had been using a regular table lamp with a 150 watt soft white bulb. It worked well, but I often felt my eyes growing tired. I knew I needed more direct light. Then we decided in order to accommodate my growing sea glass collection and all the "stuff" that goes with it, it was time to purchase a piece of furniture that would work as storage for all my goodies as well as a new TV. My "studio" is our family room and I have to admit things were getting out of hand.
This is my workbench, I have to admit that it isn't always this neat! Underneath you'll notice one of my woven storage boxes, perfect to keep items organized in and they stash quickly back into the new storage cabinet.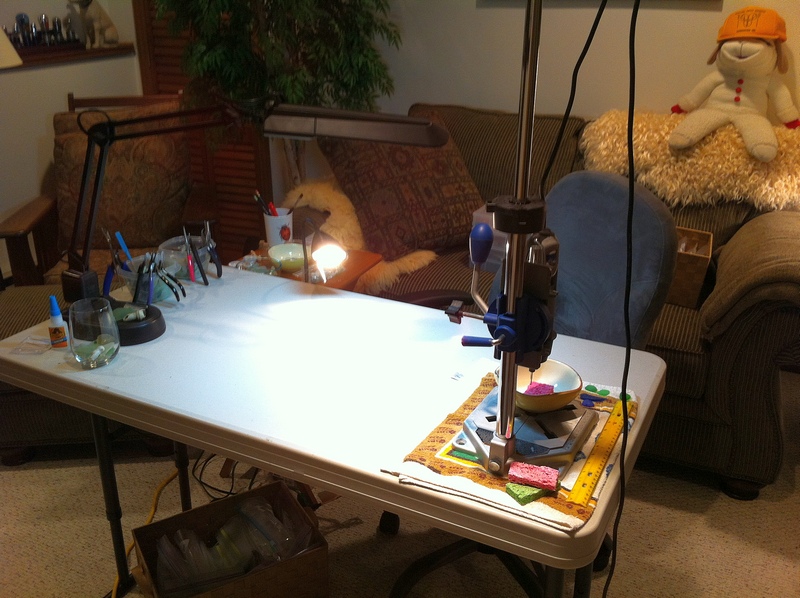 So, after a few trips, one to the dump, to our storage unit, to the furniture store, to the electronics store, plus lots of rearranging, I had a new area. It was time to set it up.
I knew that I needed to get a new light, something that would be better for my eyes, and so I could put the table lamp back where it belonged! I like a lot of light, and I mean a LOT of light. I wear magnifying readers on a regular basis, so I thought that a magnifying craft lamp was the perfect answer. I did a search online and purchased a magnifying lamp. I was very excited when it arrived and I could finally use it.
I thought that the fluorescent light was good, but very quickly found that the magnifier didn't work for me with my reading glasses (which I REALLY need). When I looked through the magnifying lens I had to take my readers off. But, if I needed to pick out a bail or a jump ring in my caddy, which wasn't under the small magnifying lens, I had to put my readers back on.  Also, I didn't like the feeling of the lens between me and what I was working on, and I felt "trapped" since I had to stay under the magnifying lens to work. Ah well. Back it went.
At least I decided I liked the fluorescent light. We had an extra one in my husband's office, (did I mention that the reason I am in the family room is because my husband works from home and uses the office room?) so I put that one on my workbench. Again, I liked how the light lit the entire area, but wanted something more direct for all the close work.
A trip to Office Depot held the answer. A small clip on LED light. I was able to clamp it to a small table I have on my right of my workbench, the perfect spot for where I do my work. A goose neck so I could move it around. Perfect. I have great overall lighting and great lighting for close up work.
So for me, the right light was actually a combination of two, fluorescent and LED. Do you know your right light?