One of the hardest things I had to learn when I started creating sea glass jewelry was how to measure to make sure that the findings I was purchasing were the right size, especially when ordering on line and especially when purchasing items like sterling silver chains and bails. I have to admit that I made a few boo-boo's at first.
The worst was some pinch bails I ordered online that ended up being so small that not only would they never work with any of my sea glass, they were so small that I could not have worked with them at all. I think they are supposed to be used to create earrings. Ok, lesson learned.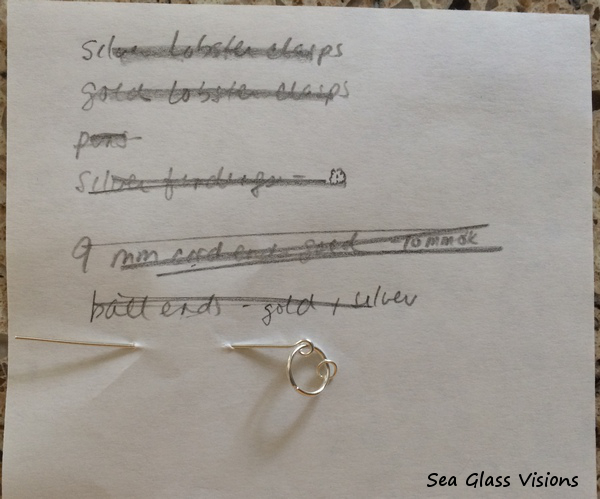 Luckily things did get much better after that. If I wanted to order something online I would go to Michael's or to A.C. Moore and get an approximate idea about sizing, which was really important, especially with purchases like the sterling silver chain. I have also become very comfortable with mm. and cm. measurements.
I keep a scratch pad near my work bench in case I want to make notes, but especially so I can keep a shopping list. When I'm not sure of a size I take one of the actual findings I need with me just so I can be sure I'm getting what I need. As you can see, I also draw doodles of shapes when needed. The picture is of my last shopping list.