I was very lucky on this day to find about a half dozen pieces of glass, two pieces were embossed and I have been able to identify both of them. The first piece of glass clearly shows "S FERR" obviously Harpers Ferry.  From what I have found out,  this is from a bottle that was produced during the time Charles Smith was the owner of the bottling operation he named the Harpers Ferry Bottling Works, between 1916 – 1942.  The second piece clearly shows "COLA" in a very old script and also has a design on it. I was able to identify this as coming from a 1920's Pepsi Cola Peanut Pinch Shaped Double Dot Bottle.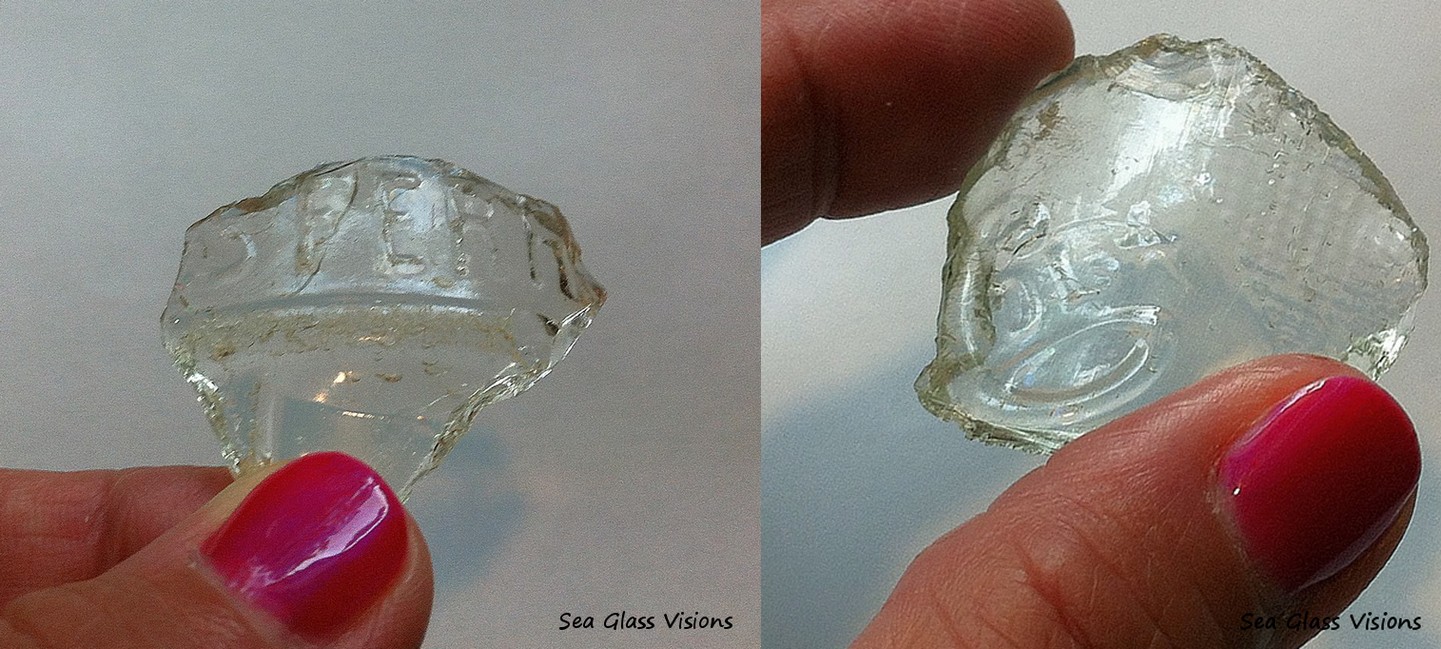 Sea glassing has become second nature to me now. Wherever I go I am always on the lookout for an opportunity and ready to hunt for sea glass treasures! I have outfitted my car with water shoes, a hat and sweatshirt, a bucket, a garden spade and a shovel, a small net with a handle for reaching into the water, a small bottle with a lid (for smaller special pieces of glass) and plastic zip lock  bags and a towel.
My hubby likes to surprise me. On Friday he told me to be ready to head out the door around 11A on Saturday. I didn't have any idea where we were headed, and was absolutely delighted when once we were on the road he told me we were heading to Harpers Ferry West Virginia.  I haven't been there since I was a child and I've mentioned wanting to visit. It's a delightful historic town located on two rivers, The Shenandoah and The Potomac, that played a big role in the Civil War. It is the site of the second federal armory commissioned by the United States government by George Washington in 1799. It was also an arsenal, where the weapons were stored. As much as I was interested in the history, being a sea-glasser I was just as excited to be learn I'd be  at a new destination to search for glass!
I knew that I had to get down to the water's edge when I saw a placard in town that mentioned a brewery and bottling factory that was open from about 1885 to 1942. The brewery and bottling operation was begun around 1885 by a local merchant named James McGraw. The brewery was called the Harpers Ferry Brewery. In 1888 the bottling plant, along with it's own beer, bottled beer for Sachs Puden ginger ale, Pilsner export beer and Pabst Milwaukee beer. McGraw died in 1893 and ownership went to his son. Due to mis-management and financial problems, his son had to sell the brewery and bottling operations in 1898. After a fire in 1909 the brewery was closed down, but the bottling works continued. There were many different owners,  as well as upgrades and changes made to the bottling works until it finally closed in 1942, having been destroyed by flooding.
It's also interesting to note that there have been MANY floods, and some quite devastating in Harpers Ferry over the years. Here are some that are listed on the National Historic Park Service website:
1877 – 29.2 feet.
1889 – 34.8 feet.
1896 – 33.0 feet.
1924 – 27.6 feet.
1936 – 36½ feet – the all-time record crest at Harpers Ferry.
1942 – 33.8 feet.
1972 – 29.7 feet.
1985 – 29.8 feet.
1996 – Two floods this year. January melt from record snow fall – 29.4 feet.  September rains – 29.8 feet.
What does this mean to a sea glass collector? Well, it means that finding any of the locally made glass is more challenging  because a lot of it has been swept downstream, and it means more likelihood of finding glass manufactured in other areas upstream, not a bad thing! It also means that most of the glass found will likely be "raw" or "uncooked".   This glass hasn't been exposed to the chemical changes caused by water, currents and sun long enough to become smooth and frosted. This is glass that has been buried in the mud, in this case probably after flooding, that is churned up and exposed years later during another flood.
This glass is definitely not jewelry quality due to rough and sharp edges, but is wonderful in it's own way. This raw glass, due to the fact that it has been buried in mud, is likely to have retained it's embossing, if it has any, and the embossing will be sharp and easy to read. This type of glass is a great find for collectors like me, who are interested in history and somewhat obsessed with identifying the glass they find.
The combination of sea glass and history is quickly becoming a favorite one of mine!