I have been collecting sea glass for almost two years now, but I feel like I've been doing it much longer.  It's been a wonderful and unexpected learning experience for me.  I've learned a lot about sea glass in a short period of time.  Most of what I've learned I've learned from wading in the water and walking beaches along the east coast and the Caribbean collecting glass. I've learned from reading. I've learned from talking with others. I've learned by expanding my horizons and using sea glass from around the world in my jewelry.
This picture is of some of my sea glass jewelry creations using local Maryland sea glass, as well as sea glass from Hawaii, England and California!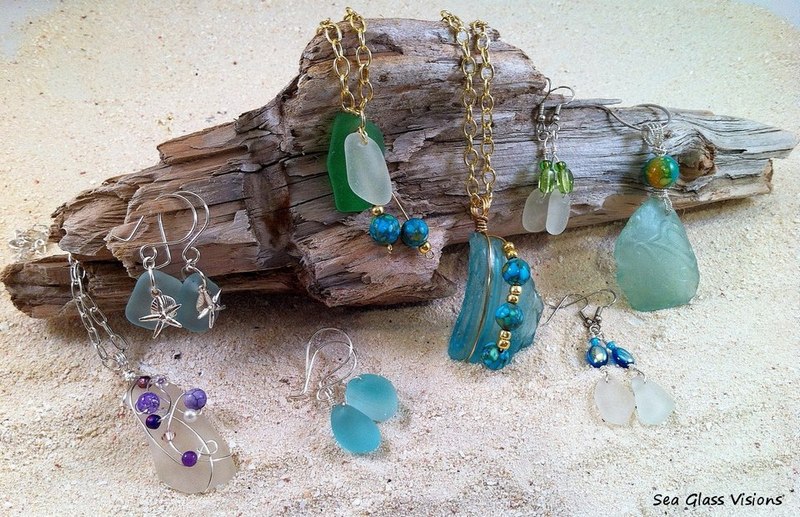 For my jewelry creations I use sea glass from Hawaii, the West Coast, the Caribbean and England. I've learned a lot from exhaustive searches on the internet trying to identify an embossed piece of glass. I have found quite a lot of embossed bottle glass locally and was able to identify it's origin.  I never knew that Baltimore had so many German breweries in the early 1900′s!
The jewelry side has been something altogether different from the searching side. I've learned what "findings" are.  I've learned the difference between 18 gauge and 22 gauge wire.  I now know the difference between a cable chain a snake chain and a rolo chain. Best of all, over time my creativity has begun to bloom. My jewelry designs are much more varied now and I am continuing to perfect my techniques.Once I had found the sea glass and created the jewelry I had to learn about marketing and selling sea glass jewelry.  I created a Facebook page. I opened an Etsy shop.  I  Tweet. I have Pinterest boards. I sell my jewelry in consignment shops in Maryland and Vermont and  also sold at local craft fairs. Requests for custom jewelry continue to increase.
With this blog I hope to entertain and enlighten you and teach you some of what I have learned about sea glass and share with you the new discoveries I come upon as I continue this journey.  I hope you'll join me.