According to Wikipedia a catchphrase (or catch-phrase) is "a phrase or expression recognized by its repeated utterance". It seems that I have my own catchphrase now!  This one has to do with craft fairs, more specifically, getting ready for craft fairs. It's a simple one and will probably be recognized by lots of my fellow crafters.  "One more day."  That's it. "One more day."
This has been a very busy Fall craft fair season for me. I showed at two craft fairs on two consecutive Saturdays. I was VERY lucky to have great weather for both of these outdoor craft fairs.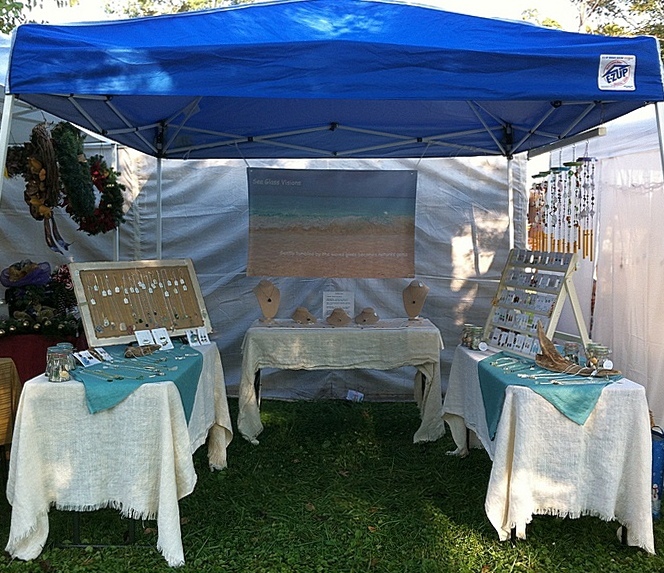 Just today, on the third Saturday,  I fulfilled a consignment for a local artisan shop with 14 pieces of jewelry and shipped a custom jewelry piece. Some of the consigned jewelry pieces are in the photo below.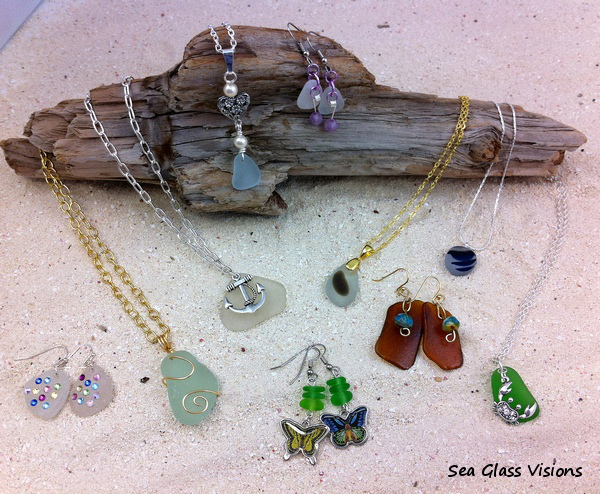 Next Saturday is another craft fair, this time an indoor one. I am working with a friend making a new display I can use at indoor craft fairs, so there have been several trips to Home Depot, as well as trips to A.C. Moore and Michael's. I have to admit that I love it. I enjoy nothing more than being busy "playing" with my sea glass and pottery on my workbench.  As I've posted before in this blog, life is good.
While I am always ready to go the night before, and am quite well organized by nature, I have found myself repeatedly thinking I wish I had "one more day."  If I had one more day I could make more jewelry. If I had one more day I could finish a few more craft items. If I had one more day could make myself a sandwich to eat at the fair, instead of tossing packs of peanut butter crackers and fruit bites into my bag.  If I had one more day I would not have to rush to get things done tonight.  Well, you get the idea. "One more day."
But what I've been learning doing more and more craft fairs is that I really don't need that one more day. I always have enough sea glass and sea pottery jewelry. I always have enough of my crafts like beaded sea glass wind chimes and sea glass window displays. Since it's just me in my booth I really don't have time to eat a sandwich, the peanut butter crackers and fruit bites are just fine. And, I am always ready the night before. It works.
I'm sure that I'll always wish for "one more day" when I'm getting ready for craft shows, but, I'll also know that what I have time to get done is enough and I'll be more than ready to enjoy the craft fair day.