I have been beach combing since I was a child. I grew up on Long Island, New York. My Dad worked a night shift and when he got home in the morning during the summertime we'd head to the beach. He'd sleep, and my Mom would wake him every couple of hours and tell him to roll over. We played, and played and played. And the beaches we spent our days on were fabulous.
These are just two of the amazing shells I found recently in the Exuma, Bahamas. The larger shell on the right is just one inch long.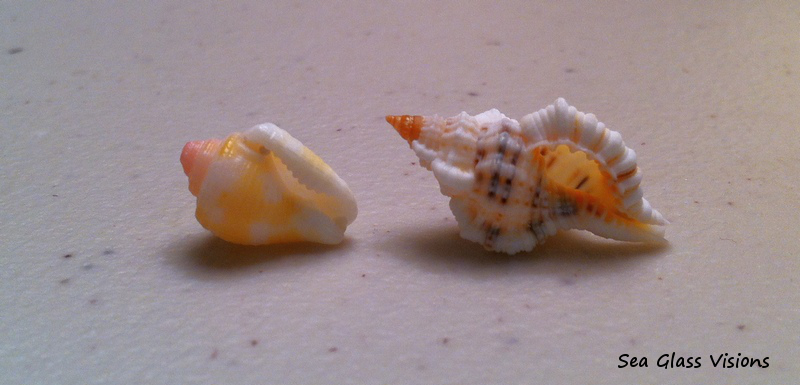 We spent our days on Fire Island. We played on the beaches off Moriches Bay and in the Hamptons. We were very lucky and owned a boat. I remember digging for clams with our toes in the Great South Bay and walking over the dunes to the ocean. The water in the bay was as warm as bath water. I still enjoy looking at the pictures from those days, Dad took slides. One thing that I always remember from those days is miles and miles and miles of empty beaches.
I think back fondly of my sister and I running up to my Mom with our hands full of shells and stones. She'd always have a bag of some kind to take them home in. Once home we'd wash our finds and then we'd create some type of artwork, gluing the shells onto paper. Sometimes we'd arrange them in jars.
Beach combing is something I still enjoy today, and I am still always searching for an empty beach. I've been very lucky to still be able to find them. I will beachcomb on any beach, because every beach has something different to offer. Today of course my beach combing includes picking up sea glass. I have been able to find sea glass, shells and wonderful drift wood at beaches close to home, and the Caribbean and the Bahamas.
Some of my favorite beach combing finds are of course sea glass. Some of my finds I keep in my sea glass collection, some of my beachcombing finds I use to create sea glass jewelry. I also use some of the sea shells and sea life remains and stones when making jewelry and what I like to refer to as "sea-side lockets". These are lockets that contain sand, shells and sea glass from specific locations. I have lockets from Maryland, Anguilla and the Exuma, Bahamas.
The most difficult thing about beach combing in the Bahamas or the Caribbean is getting the delicate treasures home in one piece. I have brought home very tiny crab bodies and claws as well as sand dollars, pampering them all the way home.  I think the most amazing thing along with delicacy of the shells is how small some of them are.  I have some amazing shells that are under one inch in length.
This is one of my "sea-side" lockets. It is filled with sand, shells and sea glass found on Rendezvous Bay, Anguilla.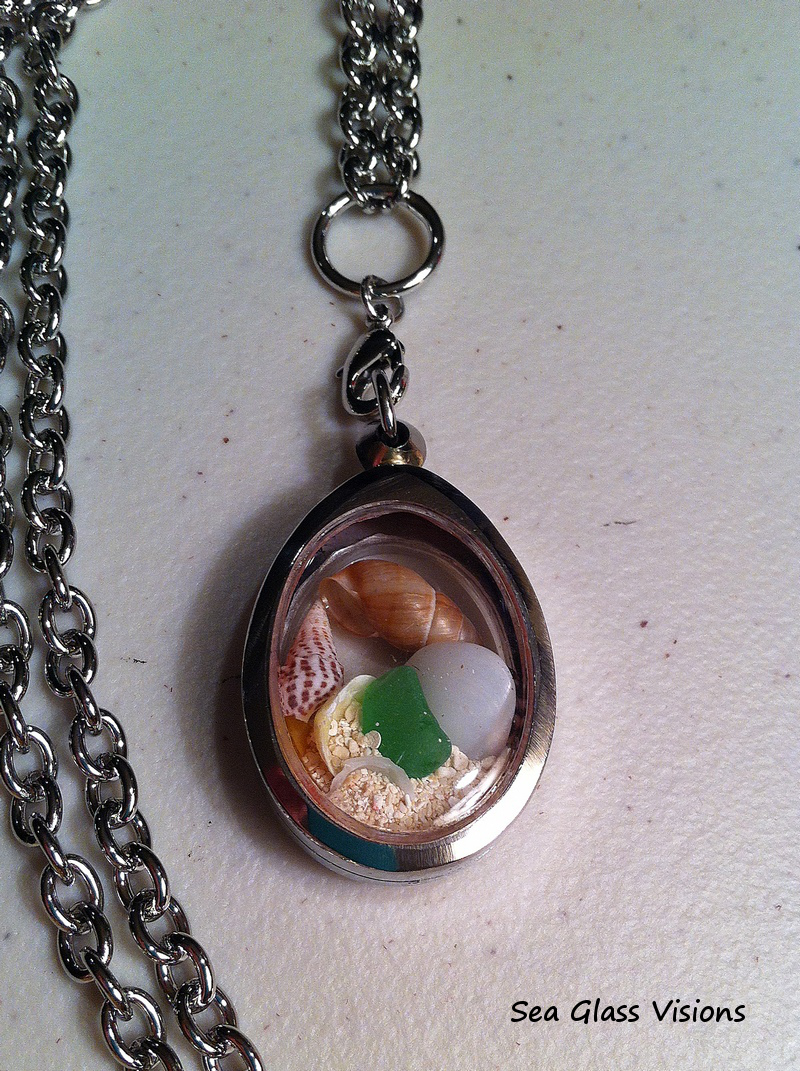 Along with sea glass and shells I have been able to incorporate drift wood, using a variety of interesting drift wood pieces as jewelry displays.
When is the best time to beach comb? Some say at low tide. What sailors call "slack" tide would be a perfect time. Slack tide is the time on either side of high or low tide when the water is completely unstressed and there is no rise or fall. Luckily there are many tidal charts online for every area so you can calculate when the best time is to find wonderful treasures on the beach.