Some projects take longer than others and are joys to create, and this was definitely one of them. This frame started out life as a plain wood frame. It was lovingly sanded, painted, distressed and then decorated with Hawaiian sea glass sand, California sea glass and pottery, shells of all types, starfish, sand dollars and a fish net. This project took several months to complete.
Then I held this frame for months after I completed it.  First off, I loved it myself, but outside of my "sea glass room" my home doesn't have a nautical/beachy theme. Even my hubby's suggestion "you can put our wedding picture in it" didn't feel quite right. So, I decided that it would be best with someone who would really appreciate it. Then I couldn't decide if I should sell it in my Etsy shop or as a consignment. While it's true Etsy would bring me a much larger audience, I do think that some handmade items are better appreciated when seen and touched, and when the natural "quirks" of the handmade piece can be felt accepted as every creation is unique.
So, with that thought in mind I recently took this frame I named "Mermaid's Catch" to a local consignment shop in Pasadena, Maryland called EL & Co. My visits to EL & Co. always include catch up time with the owner, Tracy, and it's always fun to see the new items she has in the shop.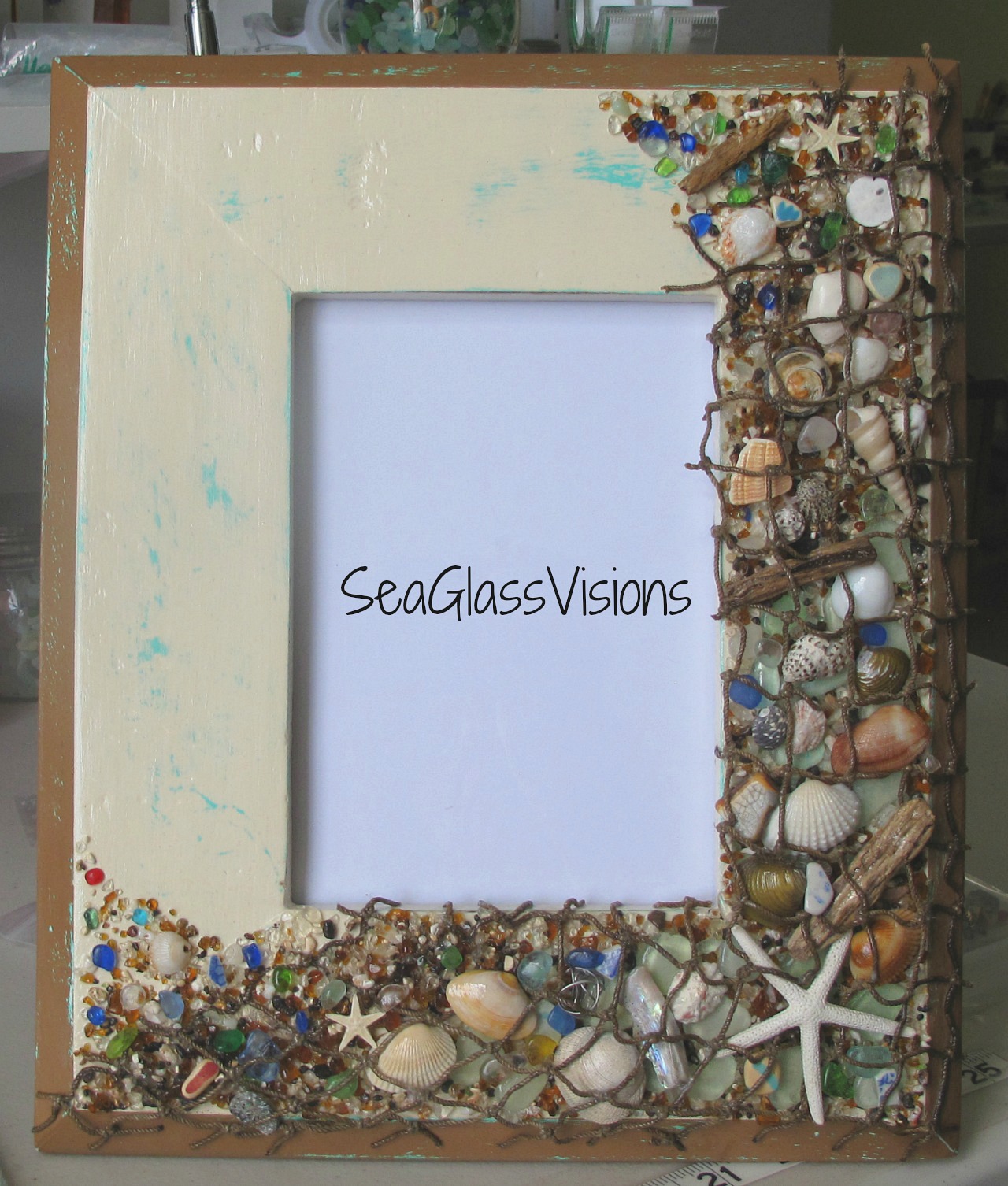 It was while we were catching up that a customer walked into the shop. Tracy pointed out the frame to her. The customer had been married on the beach in Florida. The bridal bouquet she held was made of sea shells, she was a beach theme fanatic. She fell in love with the frame and bought it on the spot. She even sent me pics, now posted on my SeaGlassVisions Facebook page, that show the frame in her wedding display.
It's always an honor when a customer choses a piece of art I have created and incorporates it into such a place of honor in her home.
Happy Ending!